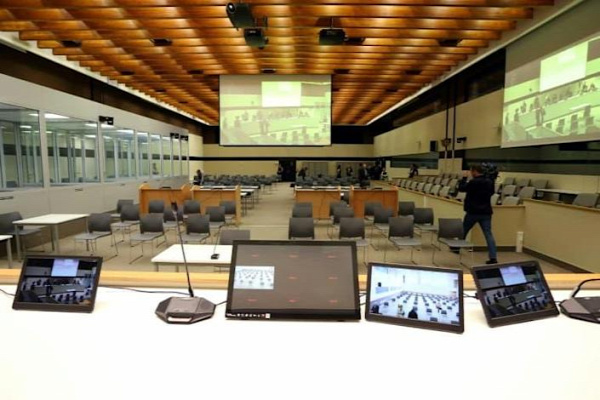 They are suspected of having hosted, transported or provided false papers to the perpetrators of the attacks of November 13, 2015 in France: sentences of up to five years in prison have been demanded against 14 defendants tried in Brussels.
Against twelve of them, prosecuted for offenses related to terrorism, the federal prosecutor Véronique Melot, who denounced "a trivialization of evil", requested on Friday and Monday sentences ranging from one year to five years in prison, some suspended.
A trial taking place in parallel with the one in progress in Paris
The defendants have been on trial since April 19 before the Brussels Criminal Court, including two by default, presumed dead in Syria. This trial is being held in parallel with the one in progress in Paris and concerns suspects excluded from the French judicial procedure. The federal prosecutor on Monday demanded three years in prison against Abdoullah Courkzine, suspected of having "contributed" so that Abdelhamid Abaaoud, operational chief of the commandos, "can hide" after the attacks in Paris and Saint-Denis, near Paris (130 dead), claimed by the Islamic State (IS) group.
Tried for "participation in an activity of a terrorist group", like most of the defendants, Courkzine was in contact with Hasna Aït Boulahcen, a cousin of Abaaoud, when she was looking for a hideout for the wanted jihadist. by the police after the attacks, explained the magistrate.
Another defendant, Youssef El Ajmi, is accused of having "knowingly" helped Ibrahim El Bakraoui - suspected of being one of the chief logisticians of November 13, who blew himself up during the attacks in Brussels in March 2016 - in his attempts to reach Syria and to have rented a car for him shortly before the attacks of November 13. A two-year prison sentence was requested against him by the prosecutor, who considered a probationary reprieve possible.
She asked for two years suspended probation for Smaïl Farisi, who is accused of having lent his Brussels apartment from October 2015 to Ibrahim El Bakraoui. He is the only defendant who must also be tried at the assizes in Brussels from the fall of 2022 for the attacks committed in the Belgian capital on March 22, 2016 (32 dead) by the same cell and also claimed by IS. . Smaïl Farisi is one of the ten defendants in the March 22 file.
Also read: ดู หนัง สัตว์มหัศจรรย์ ความลับของดัมเบิลดอร์ (2022) ประเทศไทย เต็มเรื่อง ซับไทย
Salah Abdeslam's cousin among the defendants
Four years in prison - with possible probation - had been requested on Friday against Abid Aberkane, cousin of Salah Abdeslam, the only surviving member of the commandos. He is on trial for having hidden in his mother's cellar, in Molenbeek, the French jihadist on the run after the attacks, during the days preceding his arrest on March 18, 2016.
Ibrahim Abrini, brother of Mohamed Abrini - tried in France for having accompanied "the convoy of death" to the Paris region -, is suspected of having helped his brother to get rid of the clothes he was wearing during this trip and which contained traces of explosives. Two years in prison with suspended probation had been claimed against him.
Against Soufiane Al Aroub, accused of having driven Ahmed Dahmani - alleged logistician of the jihadist cell - to Amsterdam-Schipol airport just after the Paris attacks, two years in prison had been required.
The two defendants presumed dead are Sammy Djedou, whose death was announced by the Pentagon in December 2016, and Youssef Bazarouj, another Belgian suspected of having been associated in Syria with the IS external operations cell, and who was reportedly killed in 2017.
Two defendants tried for offenses not related to terrorism
At the start of her indictment, the prosecutor had requested additional sentences of two years, in addition to thirteen years already pronounced by the court in 2021 against the first, and five years, in addition to the five already imposed on the second.
Among the two defendants tried for offenses unrelated to terrorism is Meryem El Balghiti, wife of Farid Kharkhach who is on trial in Paris, accused of having provided false papers to jihadist commandos.
Meryem El Balghiti, who allegedly played an intermediary role, is being prosecuted for forgery, but not for having acted "knowing that she was helping a terrorist group", the prosecutor said on Monday, requesting a suspended prison sentence.
This so-called "Paris bis" trial is scheduled until May 20. Judgment is expected by June 30 at the latest.
Also read: