"Jackass Forever" with the old and new stars of the controversial series, "Parallel Mothers" by Pedro Almodóvar and "Vatersland": These are the cinema reboots on March 10th.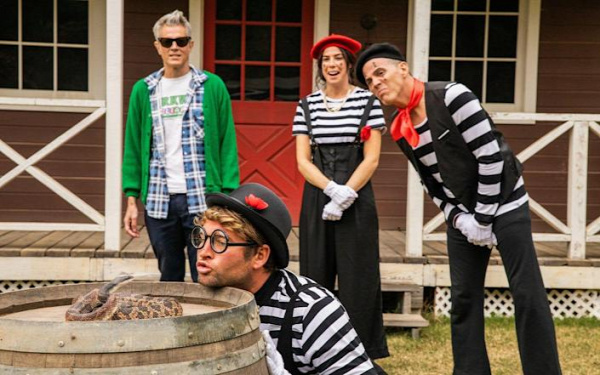 In addition to the well-known stars like Johnny Knoxville and Steve-O, there are also new faces in the fourth "Jackass" movie. (Image: Paramount)
The fourth "Jackass 4" play lasts a good hour and a half. Plenty of time, then, to ponder the sense and nonsense of self-inflicted pain in the service of entertainment. "Jackass Forever" will be released in the cinemas with some time delay, and basically this masochistic, politically completely incorrect and absolutely dull concoction by almost forgotten MTV rebels was certainly not really necessary. But: The fans of yesteryear will certainly enjoy it this time too.
Meanwhile, "The Batman" continues to dominate the big halls. But there is also something new to see in the somewhat smaller houses: Pedro Almodóvar's new film "Parallel Mothers", for example, with a brilliant Penélope Cruz in the leading role. Or the German production "Vatersland", in which the director and author Petra Seeger deals with her own past in a male-dominated post-war society.
Also read: Will Thor: Ragnarok be the most beautiful superhero film to date?
Jackass Forever
Of course, this is no longer a scandal like it was 20 years ago. Just remember: At the beginning of the millennium, "Jackass" ran on MTV for the first time and polarized people like no other show on television. Content: A horde of boys undertook obviously dangerous stunts, put themselves through disgusting tests of courage to see if a stun gun really shocked them. And Germany wondered whether one could find that funny firstly and secondly what "Jackass" was doing to young people.
So now the fourth movie in the series starts. According to reports, the guys around Johnny Knoxville and Steve-O are now around 50. In addition to the well-known "stars" there are some new faces. Eric Manaka, Rachel Wolfson, Jasper Dolphin and Sean "Poopies" McInerney face the challenges, which like to have something to do with cannons or dangerous animals - somewhere between a jungle test and an action film. A sometimes disgusting hodgepodge of pain or fear-inducing adrenaline kicks. And, as expected, everyone involved finds it very, very funny.
After "Jackass Forever" it should be over with this strange rebellion, which somehow fit the time 20 years ago. Everyone has to decide for themselves whether this form of cinema party is an appropriate form of entertainment these days and weeks.
parallel mothers
Once again director Pedro Almodóvar looks at his Spain with keen eyes. His current film is called "Parallel Mothers" and, as is so often the case with Almodóvar, it focuses on the fate of women. A country reveals itself around them that cannot escape its past.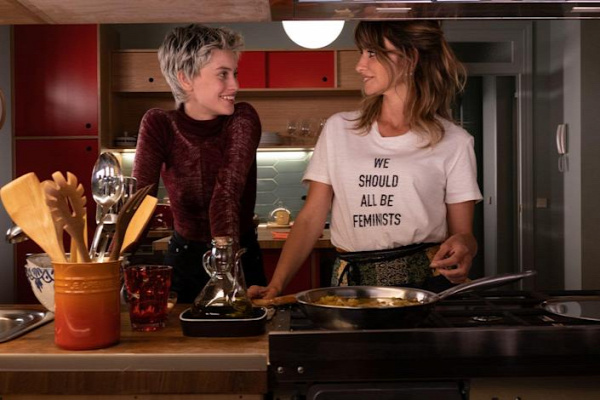 Director Pedro Almodóvar tells a moving drama that links the fates of two women in a disturbing way. Janis (Penélope Cruz, right) and Ana (Milena Smit) have both become mothers. (Image: El Deseo/Studiocanal 2021)
The "parallel mothers" are Janis (Penélope Cruz) and Ana (Milena Smit), who happen to meet in the hospital. They are both expecting their first child. Janis, a middle-aged woman, is looking forward to it. Ana, a teenager, is concerned about the future, especially since her mother Teresa (Aitana Sánchez Gijón) is really no help to her. The fathers are not there anyway. In the case of Janis, it is probably the anthropologist Arturo (Israel Elejalde), who works for a foundation that helps to clarify the crimes of the Franco regime. Janis' great-grandfather was murdered during the civil war and lies in a mass grave.
Against this background, Almodóvar tells a moving drama that links the fates of the two women in a disturbing way. The audience accompanies her in her search for the truths of yesterday and today. Penélope Cruz received an Oscar nomination for Best Actress for her role.
fatherland
"Remembrance cinema" - that is the perfect description for the film "Fatherland", in which the director and author Petra Seeger deals with her own past as a growing girl in a male-dominated post-war society. "It was important to me to make a film that expresses the feelings, experiences and painful moments of my childhood as authentically as possible," says Petra Seeger, who grew up in the 1960s and used lots of family photos and 16mm film to prepare for her memory from her father's archives.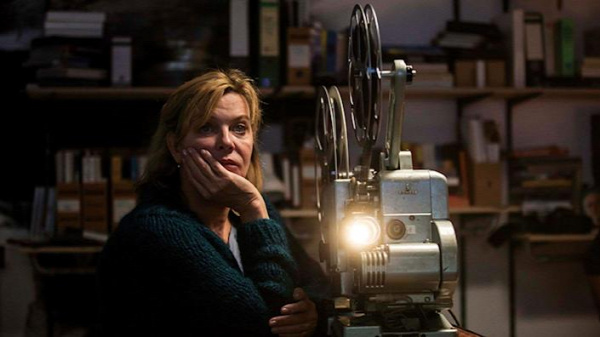 Margarita Broich plays the filmmaker Marie, who is in a crisis. (Image: W-film/Coin Film)
It happens in a similar way in the film: the filmmaker, whose name is Marie here and who is played by Margarita Broich, is working on a new screenplay. She discovers a box with photos and films from her childhood and embarks on an emotional journey through time into her own past. The film accompanies the girl Marie on her way to becoming a young woman in the midst of a decade of great changes.
With Felizia Trube, Momo Beier and Stella Holzapfel, three young actresses embody Marie at different ages in the flashback. She experienced her personal trauma early on with the death of her mother, which also shaped her father (Bernhard Schütz), who was marked by war. "Fatherland" is certainly a feminist film, but at the same time not without humor and charm.