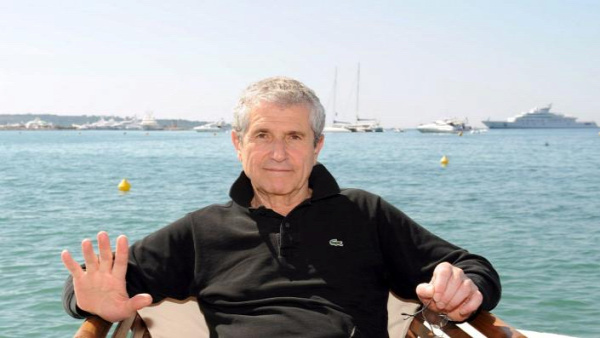 Paris (AP) - Gérard is a bachelor. He is dying and his two best friends want to give him one last pleasure: to love one last time. They therefore turn to a pimp who, touched by the story, decides to take care of Gérard personally.
With "L'amour c'est mieux que la vie" (Love is better than life), Claude Lelouch, who celebrates his 85th birthday this Sunday (October 30), has not only created his youngest and 50th film, but also a kind of testament.
At his age, Lelouch said he was getting closer and closer to the finish line. Since a lot of importance is attached to a person's last words, he is now about to say his last words with the cinema, the director, producer, screenwriter and actor explained in an interview with the newspaper "La Voix du Nord".
Released in French cinemas earlier this year, the comedy drama is set to be the first in his latest trilogy. The Oscar winner wants to give posterity some certainties, especially his seven children and eight grandchildren. "When I talk to them, they don't listen to me. But when I make a film, they watch it."
What Lelouch wants to tell you and the world? First, without love, life has no meaning. Lelouch was married three times; his seven children come from five different relationships. Second, friendships are important. Third, things never turn out the way you want them to. Fourth: Money destroys the world.
Unmistakable style
Convictions that have shaped his cinema for over 50 years. Only this time he expresses it even more enduringly. As he said in the interview, he wants to be successful at the end of his race because the last few meters are important.
Few filmmakers have created such an unmistakable style as he: stories of men and women and their big and small lies, hopes and intrigues, sometimes bittersweet, sometimes sky-high. But he doesn't just stay true to his subject. Lelouch also shoots over and over again with the same actors as Fanny Ardant, Anouk Aimée, Gérard Darmon and Robert Hossein.
Another trademark: an emphatically aesthetic camera angle and his enthusiasm for making films. It is no coincidence that Philippe Azoulay's documentary film, which was released a few months ago, is called "Tourner pour vivre" - turning to live.
The director was born in Paris on October 30, 1937, the son of a Jewish textile merchant. The family fled from the Nazis to Nice, where his mother is said to have hidden him in cinemas. The beginning of a long fascination and enthusiasm. At 17 he won a first prize, and at the end of the 1950s he established himself as an internationally renowned director in France with documentaries and in 1966 with "A Man and a Woman".
Stir audiences with films
The story about a widowed racing driver brought him the two most prestigious awards worldwide: a Golden Palm and the Oscar for Best Foreign Language Film and Best Original Screenplay. In his more than 50-year career, he mainly shot love stories and thrillers, because for him the latter are love dramas: full of lies, manipulations and false promises.
Whether "Live life", "A happy year", "A man is looking for a woman", "The time of crime", "Everything for love" and "The most beautiful years of a life" - Lelouch rarely deviates from his principle from touching the audience, or as he says: «smiling through tears».
Sensitive, melancholic and deeply human: his style made him a "virtuoso of noble kitsch" for international specialist criticism, he himself defines his work as "popular auteur cinema". For the domestic trade press, Lelouch is the last romantic of French cinema.