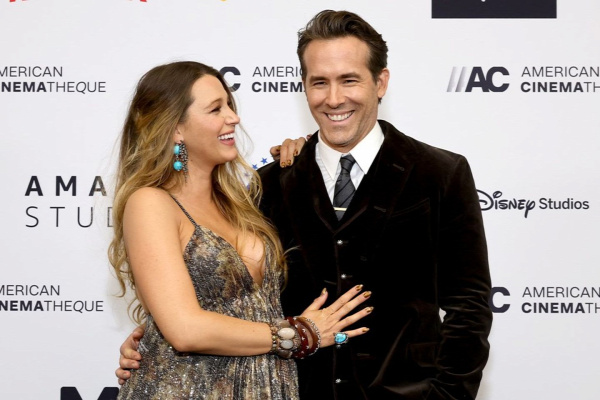 © Emma McIntyre / Getty Images for American Cinematheque
Blake Lively and Ryan Reynolds made a loving couple appearance at the American Cinematheque Awards in Beverly Hills.
Hollywood dream couple Blake Lively, 35, and Ryan Reynolds, 46, were as in love as ever at the 36th American Cinematheque Awards in Beverly Hills. The 'Gossip Girl' actress slipped into a glamorous spaghetti strap, plunging V-neckline and beaded with sequins gown from Ralph Lauren's fall collection for her red carpet appearance. Not to be overlooked: Lively's baby bump.
Blake Lively: Glamorous appearance with Ryan Reynolds
In September, the two announced that they were expecting children for the fourth time. In addition, the actress wore chic statement earrings with light blue details, a matching ring on her pinky finger and a variety of bracelets, echoing the earth tones of her dress.
Reynolds donned a sleek black velvet suit with silver star-shaped buttons. Underneath he wore a white shirt and a striped anthracite tie. Arm in arm, the two beamed in front of the photographers.
"His heart, his philanthropy, his humor"
After Reynolds was awarded one of the coveted awards, Lively took the stage and addressed moving words to her husband. She raved about "his heart, his philanthropy, his humor, his integrity, his unmatched work ethic." Many of his "breathtaking qualities" would come from his native Canada, where Reynolds was born. He has also had US citizenship since 2018.
Although the two are already parents of three children, they still pursue their professions as actors. Reynolds' role as a father doesn't seem to be neglected, however, because according to Lively it doesn't matter where he's filming, he can't wait to get home to his three daughters.
Since 2014, the two have been parents to little James, 7, followed in 2016 by daughter Inez, 6, and finally little Betty, 3, in 2019. Lively and Reynolds met and fell in love in 2011 while filming the comic book adaptation "Green Lantern". On September 9, 2012, the two married.
Sources used: twitter.com, hollywoodreporter.com