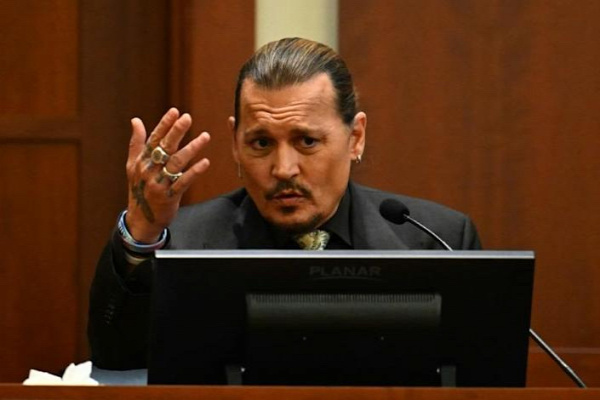 In his first testimony in the defamation lawsuit against his ex-wife Amber Heard, Hollywood star Johnny Depp denied ever hitting her. He has never hit a woman in his life, the actor said on Tuesday before the court in Fairfax near the US capital Washington. With his compensation lawsuit against Heard, he also wants to defend himself against his ex-wife's "nefarious" allegations of violence because of his children.
"There were arguments and things like that, but it never got to the point where I hit Ms. Heard in any way," Depp said calmly before the jury. "I've never hit a woman in my life."
Heard's allegations of domestic violence against him are "nefarious and disturbing," the Pirates of the Caribbean star said. They were based on "no kind of truth" and were a "total shock" for him.
When asked by one of his lawyers why he was suing Heard for defamation, the 58-year-old said: "I saw it as my responsibility not only to stand up for myself but also for my children."
"It's weird when you're like Cinderella one day and Quasimodo 0.6 seconds later," added the actor, who wore a black suit, earrings and hair in a ponytail in the courtroom.
Also read: Mr Bones 3: Son of Bones (2022) Full English Subbed
Depp rejected the allegations by Heard's lawyers that he had turned into a violent "monster" under the influence of alcohol and drugs. Over the years he has taken "substances" in phases to "numb" himself as a result of his mother's physical and psychological violence against him. Basically it was a "self-treatment" acted; Heard's descriptions of his drug abuse are exaggerated and, for the most part, "plain and plain wrong".
Depp has sued Heard, to whom he was married between 2015 and 2017, for $50 million in damages. The reason is an article by Heard for the newspaper "Washington Post" from the end of 2018, in which the 35-year-old described herself as a victim of domestic violence.
The actress did not name her ex-husband. However, Depp argues that he is implicitly accused of domestic violence, especially since Heard had publicly accused him of a physical assault in 2016.
His lawyers emphasize the detrimental effect of Heard's allegations on Depp's career. So he lost his role as Captain Sparrow in the "Pirates of the Caribbean" film series and had to give up his participation in the "Fantastic Beasts" film series.
Heard, known from films like "The Danish Girl", has responded with a counterclaim. She is demanding $100 million in damages from Depp and accusing him of "unbridled physical violence." Depp counters that she wants to "generate positive publicity for herself" in this way.
Numerous witnesses will testify at the trial, which started last week, including actor James Franco and Tesla founder Elon Musk. On Wednesday, another questioning of Depp by his lawyers and a cross-examination by Heard's lawyer were pending.
The couple, who divorced after a turbulent marriage, had already faced each other at a trial in London in 2020. At the time, Depp had sued the British tabloid The Sun, which had described him as a "wife bully", but was defeated.
Also read: