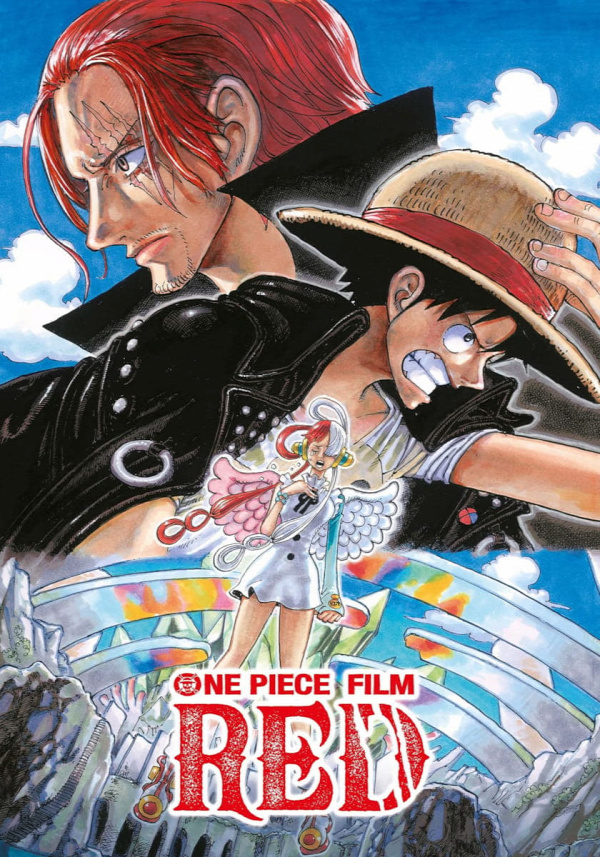 With "One Piece Film: Red" the straw hat gang finds its way to the cinema screen for the 15th time. We'll tell you why the film isn't just worth seeing for "One Piece" fans.
This article reflects the opinion of the author and not necessarily that of all kino.de editors.
Since October 13, 2022, it's been "cast off" and "set sail" for Monkey D. Luffy and his crew to be able to cheer for superstar Uta at their first live concert on the music island of Elegia. I've taken a look at "One Piece Film: Red" and I don't want to withhold my opinion from you at this point.
You can also find out what awaits you in the new "One Piece" movie
One Piece Film: Red: What is it about?
Anyone who has already seen the trailer knows that the focus is on a new character, singing diva Uta. With her angelic voice, she has built up a large fan base, which is now traveling to Elegia full of anticipation to hear Uta sing live for the first time. However, the tide turns when Monkey D. Luffy reveals a dark childhood secret. The horror among the concert guests does not prevent Uta from continuing her show - after all, her goal is to ensure eternal happiness with her songs. However, Luffy and the Straw Hat gang do not like how she puts this plan into action. When they lure Uta out of reserve, a life-or-death struggle ensues; because the "new era" that Uta sings about promises anything but bliss...
More for the ear than for the eye?
Unlike many other anime, "One Piece Film: Red" doesn't hesitate and starts right at the beginning of the concert. And let me tell you one thing: Music is guaranteed not to be neglected in this film. Uta performs a total of seven songs over the course of the 115-minute runtime (listen at Amazon) - in the original sound, because none other than J-Pop star Ado lends Uta her voice. Yes, you read that right; even those who watch the film in the German dubbed version will hear the original songs. But don't worry: the subtitles are easy to follow and do not detract from the viewing experience in any way.
Although the focus in the new "One Piece" anime is clearly on the music, the film also comes with a refreshingly innovative story that doesn't even have to leave the music island of Elegia to take us to other worlds. Anyone who expects too big plot twists and an unpredictable plot (and generally appreciates the nature of Eiichirō Oda's "One Piece" manga) will not be completely satisfied. Nevertheless, "One Piece: Red" occasionally surprises. Action-packed fight scenes, heart-rending dialogues and whimsically imaginative animations complete the cinema title.
A must-have, not just for One Piece fans
Needless to say, fans of Monkey D. Luffy and the Straw Hats shouldn't miss this spectacle. But with "One Piece Film: Red" those responsible put together an all-round mannered overall package that is not only suitable for "One Piece" fans. Almost incidentally, the characters give sufficient explanations about all the important backgrounds, making it possible for even anime and manga laypeople to follow the plot of the film. If you have a heart for music and especially J-Pop, you will also get a taste for it.
If you want to convince yourself of "One Piece Film: Red", you should go to the cinema from October 13, 2022.
Also read :