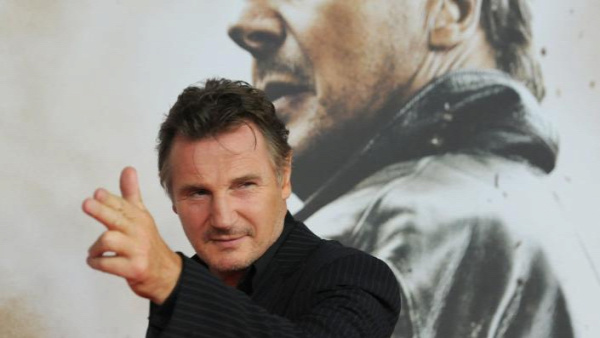 London (AP) - Liam Neeson can't help it. After «Blacklight», «Memory» is his second action hit this year. In the first he plays a secret agent who takes on the FBI, in the second a hitman who has become a target himself.
Ever since he hunted his daughter's kidnappers as an angry father and ex-agent in "96 Hours" and eliminated one after the other, the native of Northern Ireland has been subscribed to such roles. He likes to play the action and fight scenes himself. "I love it," he said recently on the American TV show "Today". This Tuesday (June 7th) Liam Neeson will be 70 and is gradually thinking about retiring.
He showed from a young age that he was also a man for the rough and had a strong physical presence. Neeson learned to box at the age of nine. In his youth he won several titles as an amateur boxer. Later, the 1.93 meter tall Neeson lent a hand at the Guinness Brewery, where he worked as a forklift driver and then a truck driver. He also took a job as a printer in an architect's office.
Became world famous as Oskar Schindler
But it was acting that appealed to him the most. He discovered his passion for theater while still at school. "It was a lifeline," said Neeson, whose childhood and youth were shaped by the outbreaks of violence during the Northern Ireland conflict. As a teenager, he regularly took part in school plays. In 1976 he began acting at the Lyric Players' Theater in Belfast and a year later he had his first small film role. Named after a priest in his birthplace of Ballymena, William John, whom everyone just called Liam, played Jesus in Pilgrim's Progress.
In the 80's Neeson acted in many TV productions, series and films. He had a guest appearance on "Miami Vice" and supporting roles in the fantasy epic "Excalibur", in the historical film "The Bounty" with Anthony Hopkins and Mel Gibson and alongside Robert De Niro and Jeremy Irons in "Mission". In 1990, director Sam Raimi gave him the title role in Darkman. Although the superhero film, which is now a cult following among genre fans, was a box office success, it was not yet a big break for Liam Neeson.
It was the role of Oskar Schindler in Steven Spielberg's drama "Schindler's List" that made him world famous in 1993. Neeson was nominated for an Oscar for his portrayal of the German industrialist who saved Jewish workers from the Holocaust in his factory during World War II.
Spielberg had just seen him on stage in his Broadway debut "Anna Christie" in New York. One thing led to another. "Anna Christie" was also a personal success for Neeson, because he starred with Natasha Richardson, who became his wife a year later. The marriage to the daughter of acting legend Vanessa Redgrave produced two sons.
Since the success of "Schindler's List", the man with the sonorous voice has been one of the big names in Hollywood. After demanding films in the 90s such as the drama "Nell" with Jodie Foster and title roles as a Scottish folk hero in "Rob Roy" or Irish freedom fighter in "Michael Collins", Neeson was also seen in Hollywood blockbusters. He played Jedi Master Qui-Gon Jinn in "Star Wars: Episode I - The Phantom Menace" and was Batman's antagonist in "Batman Begins".
Busy action star
In the romantic Christmas comedy "Actually... Love" he convinced as a widower and single father. In 2009, tragic fate also hit him in real life. His wife Natasha died from a head injury sustained in a skiing accident. The actor did not take a career break.
When he took on the role of former CIA agent Bryan Mills in 2008, Liam Neeson had little idea that his career would be given another powerful boost. "I have some very special skills that I've picked up over the years," Neeson says as Mills in the hard-hitting thriller about his daughter's kidnappers. 'I'll look for you. I will find you and I will kill you." Which he then did.
Since hitting the big screen, the Brit, who also has US and Irish citizenship, has been a busy action star. «96 Hours» (original title: «Taken») resulted in two sequels. "Unknown Identity", "Non-Stop" or "Rest in Peace" were other fast-paced action thrillers. The basic principle of the plot is always the same: Neeson alone against everyone. "All of a sudden I was offered all these scripts for action movies where the main character is 29," Neeson said in the "Today" interview and laughed. "I'll be 70 this year and I'm still getting away with it."
"I am not a racist"
However, during an interview for the thriller "Hard Powder" in 2019, Neeson caused a controversy that almost slowed down his career. He confessed to the Independent newspaper that as a young man he had lust for revenge against black people after a friend told him that she had been raped by a black man.
Neeson said he was ashamed of his behavior at the time. But many were outraged on social media. "I'm not a racist," Neeson said on ABC's Good Morning America. At that time he sought help and learned his lesson. Fellow actors like Whoopi Goldberg, Terry Crews and Ralph Fiennes publicly defended him and praised his honesty. A film premiere was canceled, but then Neeson continued filming.
However, Liam Neeson does not believe that he will make many more films in the style of "96 Hours" and "Hard Power". "I think it will stop with the action films," he said in the "Today" interview, looking at his advanced age. "That has to stop. The audience isn't stupid. I'll leave it at some point."