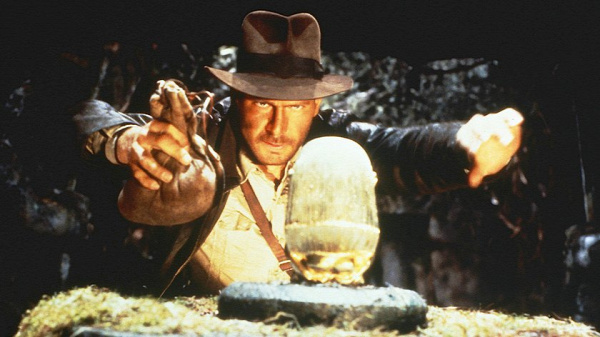 Another rumor has now been confirmed: "Indiana Jones 5" will feature a young Harrison Ford. There is also a first picture of Phoebe Waller-Bridge.
When Harrison Ford first appeared as adventurous archaeologist Dr. Henry Walton Jones Jr. appeared, he was already 39 years old, only a few weeks away from his 40th birthday. There could not have been a better gift for the anniversary: ​​Indiana Jones became the role of his life, although he was already allowed to play Han Solo in the "Star Wars" films, and made him immortal. Of course, even 30 years from now, this adventure series, which will soon comprise five films, will be remembered - and with it Harrison Ford.
"Indiana Jones 5" will definitely be the last Indy film with the now 80-year-old actor and probably also the farewell to the iconic character. As fantastic as the plot elements of the film series may be at times, you don't buy it even from Indiana Jones that when he is old he is still able to put Nazis on the Twelve. It's already extremely borderline.
No problem, then he'll just be made younger: that's what those responsible around director James Mangold ("Cop Land") must have thought. Because as the filmmaker revealed in an interview with Empire, Ford was digitally rejuvenated for the opening sequence, which will take place in 1944. De-aging is the name of the process that old master Martin Scorsese used for his mafia epic "The Irishman" with Robert De Niro, Al Pacino and Joe Pesci:
"I wanted to take the chance to dive into that old George [Lucas] and Steven [Spielberg] movie and give the audience an adrenaline rush. […] So the audience does not experience the change between the forties and sixties as an intellectual mind game, but literally experiences the buccaneer spirit of those early days… followed by the beginning of the present."
This is indeed reminiscent of the opening sequence of Indiana Jones and the Last Crusade, when first a significant experience from the youthful days of the young Indiana Jones reveals how he got his famous hat. So what will the focus be this time? The iconic leather jacket from "Raiders of the Lost Ark" was even dug out of a warehouse especially for these scenes and reproduced one-to-one after trying it on. The goal, says producer Kathleen Kennedy, is to make the audience think they're looking at old archive footage. And according to Ford, that was also successful:
"This is the first time I see it and believe it. It's a little creepy. I don't think I want to know how it works, but it works. But I don't want to be young anymore. I'm glad I earned my old age."
The only question that remains is whether the digitally rejuvenated Harrison Ford moves like a young man. That was the big shortcoming of "The Irishman". For an actor optically trimmed to be in his late 30s, who continues to move like a late 70's, the immersion is gone no matter how good it may look. You can find out more about Harrison Ford's Indy farewell performance in our video.
Indiana Jones 5: First picture of Phoebe Waller-Bridge as Helena
The first pictures of Harrison Ford and the Nazi villains, played by Mads Mikkelsen and Boyd Holbrook, have already appeared. Now finally a first look at Indy's goddaughter Helena (Phoebe Waller-Bridge):
Not much is known about her yet. Rumor has it that she could succeed Indiana Jones and star in the officially confirmed "Indiana Jones" series for Disney+. So the series can be continued without having to find a new actor for Indiana Jones. For Waller-Bridge, the role is like a jackpot:
"She is an enigma and a wonder. Kathy [Kennedy] was in London and wanted to have dinner with me and casually mentioned it. I immediately ordered ten bottles of wine. Then I read a script faster than ever before. […] I just couldn't believe how much fun I was having and how moved I was by it. And then I had a Zoom [meeting] and everyone was like, 'Yes!'."
And: Helena will not just be there as an accompaniment and hold back, she is very involved in the action, promises Waller-Bridge. How, fans will see from June 29, 2023, when "Indiana Jones 5" starts in German cinemas.