Sandra Bullock says women are "generally not invited" to work on major franchise blockbusters, which is why she's particularly proud of original films like The Lost City.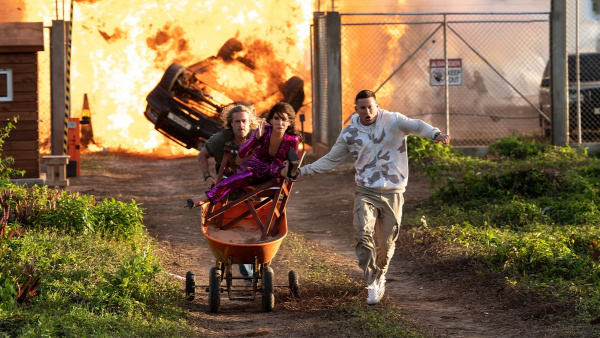 In the Nee Brothers' epic adventure, she plays romance novelist Loretta Sage, who is stranded in the jungle after being kidnapped for her archeology skills by Daniel Radcliffe's eccentric billionaire.
Bullock, who is also a producer on the project, tells Yahoo that working on a major film that isn't based on a novel, comic book, or other film was "more than" appealing. She added, "Nothing I've done has been intellectual property."
"Women are generally not invited"
"Women are generally not invited unless they belong to the second or third row. It's only recently that they have their own spinoffs." In 2018, Bullock starred in Ocean's 8, the female spin-off in the Ocean's Eleven franchise, alongside Cate Blanchett, Anne Hathaway, Rihanna and more.
It was frustrating that there was nothing to compare working on the film with, Bullock said. But at the same time, it also spurred her on to "prove it to everyone." Namely "that something was created here that is worth people's time."
She continued, "It's entertainment. we are clowns We are professional clowns. Our job is to provide entertainment."
Bullock's character in "The Lost City" is joined in the jungle by the somewhat dopey cover model Alan (Channing Tatum), who flies to her to rescue her from the clutches of the villain played by Radcliffe.
Given Bullock and Tatum's remarkable comedic skills, it's not surprising that they were given the freedom to go overboard in their scenes together: "We were given permission to do whatever we wanted to do. Most of it didn't work. We thought we were hilarious most of the time," Bullock said
"You want the feeling of improvisation"
"You want the feeling of improvisation. We had incredible lyrics that were written in such a way that we quickly felt like we were improvising. I would say it was about 50/50."
In the wake of Uncharted and other recent adventure blockbusters, one of Hollywood's oldest genres seems to be returning to the big screen. Bullock blames "cynicism and hubris" for the muted response to action-adventure stories in recent decades.
She added: "I think we took ourselves too seriously and forgot that the purpose of entertainment is to be entertained and to forget about everything else for a while. Maybe our cynicism has diminished a bit after being at home for so long."
Related Stories: