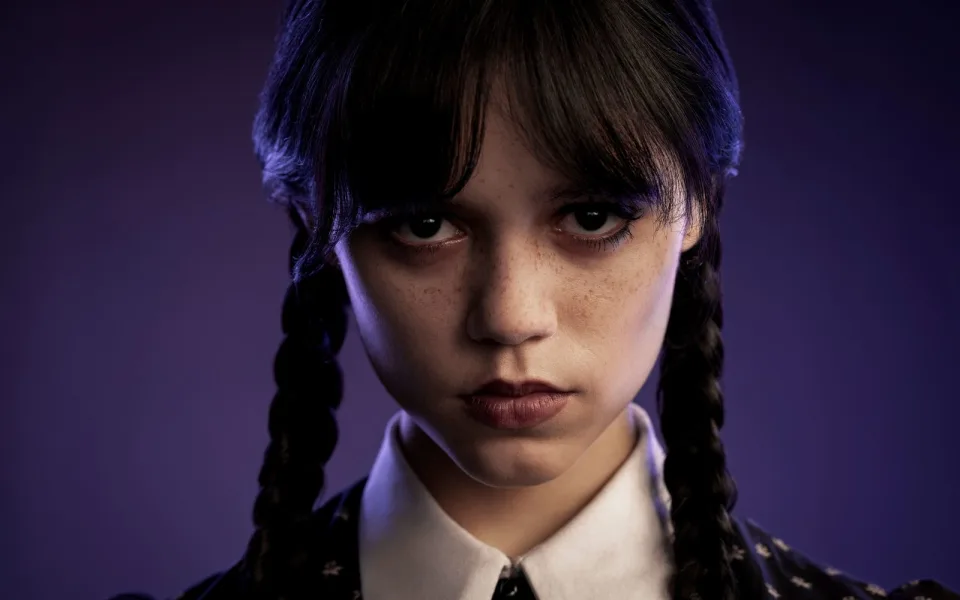 Tim Burton takes you into the eerily fantastic world of the Addams family, and Jason Momoa invites you into "Slumberland". The overview reveals which streaming highlights the coming week has in store.
The Addams family is back - at least in parts: "Wednesday" (from November 23) comes from the imagination of Tim Burton and focuses on the gloomy-looking title heroine (Jenna Ortega) with the ice-cold hand. The somewhat different high school series on Netflix accompanies her in her everyday school life at Nevermore Academy - an alternative to Harry Potter's magic school Hogwarts, if you will. You can find out what else Netflix, Amazon and Co. have to offer in the next few days in the overview.
"Wednesday", Netflix
In 1938, American readers first became acquainted with a family that was so very different from themselves: for cartoons that appeared in the "New Yorker", Charles Addams created an idiosyncratic, morbid clan with which he created the image of the wanted to satirize the perfect family - "The Addams Family". TV movies on US television, cinema adventures and an animated film followed. Netflix is ​​now dedicating itself to one of the offspring of the eccentric family: the young Wednesday (Jenna Ortega) is the title (anti)heroine of the Netflix series of the same name, which will be available from November 23.
Director Tim Burton makes it clear right at the beginning of the eight-part series how radical the student is: when bullies attack Wednesday's brother at high school, she takes revenge in her own way creeps costs him his best piece - and gets Wednesday expelled from school. As a result, the empathetic and emotionless teenager ends up at the notorious Nevermore Academy, a gathering place for outcasts. There, a mysterious series of murders challenges the brilliant intellect of Wednesday, who is also on the trail of a secret about the past of her parents (Catherine Zeta-Jones and Luis Guzmán).
Diabolical, articulate, astute: In "Wednesday" Jenna Ortega transforms into one of the toughest and coolest series characters of Netflix's recent past. The grumpy eponymous heroine fears nothing and no one and openly expresses her dislike of those around her. Screenwriters Miles Millar and Alfred Gough are in top form with sharp-tongued remarks and dialogue duels that have washed out.
"Slumberland", Netflix
New school, new everyday life: A completely new life awaits young Nemo (Marlow Barkley) - and that without her beloved father (Kyle Chandler). He died completely unexpectedly during a sea voyage. Because of this, Nemo has to leave her beloved lighthouse and moves in with her uncle Phillip (Chris O'Dowd). But the girl can only really be herself in her dreams, where she embarks on the adventure of her life with her eccentric new companion Flip (Jason Momoa) - with one goal in mind: Nemo wants to see her father again.
Is "Aquaman" star Jason Momoa bringing a fantasy film highlight to Netflix? In "Slumberland", the new film from "Hunger Games" director Francis Lawrence, the Hollywood star takes on a young girl - and accompanies her and the streaming audience into a magical dream world. "Slumberland" starts on November 18th on Netflix.
"Echo 3", Apple TV+
Scientist Amber Chesborough (Jessica Ann Collins) disappears without a trace on the border between Colombia and Venezuela. Her brother Bambi (Luke Evans) and her husband Prince (Michael Huisman) then set out to find Amber. Elite soldiers with ample military experience, the two men manage to locate Amber's last whereabouts in South America - but Bambi and Prince soon discover that their quest has led them into the middle of an explosive war.
The new Apple Original "Echo 3" is a fast-paced action series from Oscar winner Mark Boal ("Zero Dark Thirty"). The ten-part thriller is based on the award-winning Israeli series "When Heroes Fly" and the novel of the same name by Israeli writer Amir Gutfreund. The first three episodes of "Echo 3" can be seen on November 23 on Apple TV+. A new episode will follow each week.
"Poker Face", WOW
Poker is the great passion of tech billionaire Jake (Russell Crowe). But when he rounds up old friends to play, he has another goal in mind: he wants to get rid of old secrets once and for all. It's about a whopping $25 million - in chips, of course - and an uncomfortable truth that's finally about to come to light. However, Jake's plan is foiled when an old acquaintance breaks into Jake's house. Suddenly the poker night is about much more than money and friendships: nothing less than the lives of everyone involved is at stake.
The Sky original "Poker Face" shows whether Jake and his former friends will survive the night. Oscar winner Russell Crowe not only takes on the leading role, but is also responsible for directing the suspense-packed thriller behind the scenes. "Poker Face" will be available on WOW from November 19th.
"Welcome to Wrexham", Disney+
It is the contrast program to Hollywood glamour: the football club Wrexham AFC plays in the English National League, the fifth highest English division, and is the pride of a working class town in North Wales. It was at this club of all places that Ryan Reynolds fulfilled his dream of his own football club – the actor has owned the "Dragons" together with "It's Always Sunny in Philadelphia" star Rob McElhenney since 2020. A new documentary series now takes a look at Reynolds commitment.
"Welcome to Wrexham" tells the story of sporting outsiders - the "training room" consists of about five machines, far from the glamor of the Premier League. In addition, the 18-part series highlights the challenges of an underdeveloped area: Wrexham residents often have little more than this club. A real responsibility for the two overseas actors - especially since they don't have any experience to speak of. Disney+ will feature "Welcome to Wrexham" on November 23.