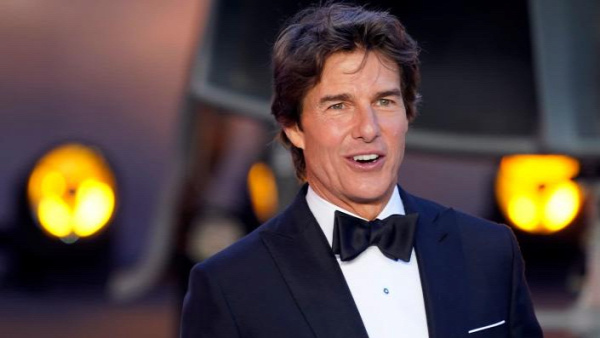 Los Angeles (AP) - It could hardly be better for Tom Cruise on his milestone anniversary. A few weeks before his 60th birthday, the actor had the best US box office success of his 40-year Hollywood career.
After the theatrical release at the end of May, "Top Gun: Maverick" with Cruise in the role of pilot Pete Mitchell aka Maverick grossed over 291 million dollars in North America within ten days. Cruise's previous hit films such as "Rain Man" or "Mission: Impossible" episodes had never made it this far in their entire run. This Sunday (July 3rd), when Cruise turns 60, Hollywood's sunny boy can also celebrate his new fame.
Also read : Thor - Love and Thunder: Marvel releases second trailer for the film; check out
Radiant in Cannes
He beamed into the limelight at the Cannes Film Festival in May. On the occasion of the European premiere of "Top Gun: Maverick", pilots from the French Air Force flew laps over the festival venue, and Cruise received the rarely awarded Palme d'Or. It's hard to believe it's been 36 years since his first "Top Gun" appearance as daredevil student fighter pilot Maverick. Back in 1986, as now, Cruise does most of the stunts in his films himself to make it seem more real.
"I wanted to bring the art form forward," he said at the Cannes Film Festival when asked why he was taking on the hardships. "I asked myself: How can I immerse the audience in a film, in this kind of action." He always wanted to do things like helicopter flying or skydiving. As a four-year-old child, he used his bed sheet as a parachute and jumped off the roof, he said.
Cruise is seen in Hollywood as a perfectionist who skilfully controls his own image. He would give "110 percent" on every day of shooting, "Top Gun: Maverick" director Joseph Kosinski confirmed to the star recently in an interview with the cinema portal "Deadline". "He's been doing this for 40 years and loves his work and doesn't slow down a bit." Cruise would rather "put even more gas," said Kosinski.
Privacy under lock and key
At the glamorous film premiere in London at the end of May, Cruise walked the red carpet beaming next to British Prince William and his wife Duchess Kate. For advertising purposes for his films, the actor masters the flurry of flashbulbs perfectly - on the other hand, he has kept his private life strictly under wraps for years. The tabloid press can only speculate about romantic "dates" – most recently, Cruise 2020 was said to have a relationship with Brit Hayley Atwell (40, "Avengers: Endgame"), his co-star in the next two "Mission: Impossible" episodes.
After his headline-grabbing divorce from actress Katie Holmes (43) ten years ago, Cruise had practically disappeared from the public eye. Their daughter Suri, now 16 years old, grew up far away from Hollywood with her mother in New York.
Marriage to Holmes was Cruise's third. He was married to actress Mimi Rogers from 1987 to 1990. In the year of their divorce, he said yes to the Australian Nicole Kidman. They adopt two children, Isabella and Connor, now 29 and 27 years old. They were considered a dream couple until they suddenly separated after ten years of marriage. The end with Holmes also came as a surprise to the public.
Cruise flaunted his love for Holmes, 17 years his junior, with overzealous bounces of joy on a sofa on talk show host Oprah Winfrey's 2005 TV show. After a cinematic engagement on the Eiffel Tower in Paris, the couple said yes in a strictly shielded fortress near Rome in November 2006, when daughter Suri was already six months old.
Also read : Thor: Love and Thunder Full Movie
Inveterate Scientologist
In 2012, Holmes cited "irreconcilable differences" as the reason for her divorce filing. The media has long speculated about Scientology disputes between spouses. Cruise is an inveterate Scientologist, Holmes was raised Catholic. With his offensive mission for the controversial organization, he had often caused a stir. In 2005, he criticized his colleague Brooke Shields in a TV show for having temporarily taken psychotropic drugs for postnatal depression. She should have been taking vitamins and exercising, Cruise advised.
He made his film debut alongside Shields in 1981 in the drama Endlose Liebe. He then shot the military strip "The Cadets from Bunker Hill" with Sean Penn. The breakthrough as a leading actor came at the age of 21 with the youth film "Risky Business". "Top Gun - They fear neither death nor the devil" made him a star in 1986.
Cruise starred alongside Paul Newman in The Color of Money and alongside Dustin Hoffman in Rain Man (1988). He delivered hits in quick succession: "Born on July 4th", "Days of Thunder", "A Matter of Honor", "The Company" and in 1996 the first "Mission: Impossible".
Don't be afraid of oblique roles
In Germany, however, he was criticized when he presented the Stauffenberg film "Operation Valkyrie" in Berlin in 2008. It was controversial that a Hollywood star and self-confessed Scientologist played the Hitler assassin Claus Schenk Graf von Stauffenberg. There were also mishaps on the set and quarrels about permission to shoot in Berlin's historic Bendlerblock.
Cruise didn't shy away from quirky roles, such as the long-haired rock star in the film musical "Rock of Ages", or the fat suit with a bald head as the hysterical studio boss in the action comedy "Tropic Thunder". He has been nominated three times for Hollywood's highest award, for "Born on the Fourth of July", "Jerry Maguire - Game of Life" and "Magnolia", but he has not yet won an Oscar.
After the murder thriller "Jack Reacher" and excursions into the science fiction genre with "Oblivion" and "Edge of Tomorrow", fans can now look forward to Cruise again in his celebrated role as secret agent Ethan Hunt. At the end of April, at the CinemaCon film trade fair, Cruise presented scenes in a video message from filming in South Africa, peppered with daring stunts. "Mission: Impossible 7 - Dead Reckoning Part 1" by director Christopher McQuarrie is scheduled to hit theaters in July 2023.
But Cruise wants to go higher: The Hollywood star and the US space agency Nasa are planning to shoot on board the International Space Station ISS. The plans were announced in May 2020, the title is still secret.