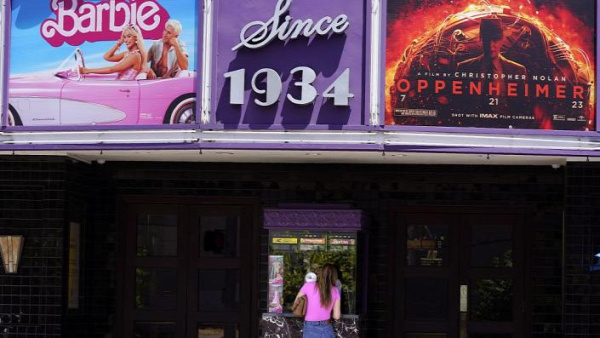 Many routinely refer to cinema as a dying medium, and few are optimistic about the direction the industry is headed.
Legendary director Francis Ford Coppola called Barbenheimer (aka "Barbie" and "Oppenheimer") "a win for cinema."
"I have yet to see ("Barbie" and "Oppenheimer"), but the fact that people fill big cinemas to see them, and that they are neither sequels nor prequels, do not have a number, so are really unique, is a victory for cinema."
He's not wrong.
A week after the launch of Barbenheimer, the two films have held up unusually well in cinemas. The studio estimated on Sunday that Barbie grossed a whopping $93 million in its second weekend. Oppenheimer stayed in second place with a robust $46.2 million (€41.9 million). Sales for the two films fell 43% and 44%, respectively -- a far cry from the usual second-week declines.
Barbenheimer, a perennial favorite Barbenheimer has proven that it is not a one-off phenomenon but a perennial hit at the box office. The two films combined have already grossed more than $1 billion (€908 million) at the worldwide box office.
Paul Dergarabedian, a senior media analyst at data provider Comscore, called the film "a milestone for films, for moviegoers, and for cinemas."
"Two films from rival studios that are linked in this way and that are mutually reinforcing - both in terms of box office and in terms of popularity - I don't know if there is a comparable situation in the annals of box office history," says Dergarabedian. "There's really no comparison to it."
After its best-ever grossing of the year ($162 million), pink pop sensation Barbie had a remarkably strong week and went into the weekend. The film outperformed Nolan's The Dark Knight to have the best first 11 days of any Warner Bros.
Barbie has made a quick $351.4 million in US and Canadian theaters, making it set to be the summer's biggest box-office hit. Barbie has grossed at least $20 million every day the film runs.
And the Barbie Effect isn't unique to North America. The film grossed $122.2 million internationally over the weekend. The worldwide box office is 775 million dollars (704 million euros).
Even experienced studio operators are amazed.
"That's an insane number," said Jeff Goldstein, Warner Bros. sales director. "There's just a built-in audience that wants to be a part of the current zeitgeist. Everywhere you go, people wear pink. Pink is taking over the world."
Amidst this hype, Barbie is already attracting a crowd of repeat visitors. Goldstein estimates that 12% of sales will go to people wanting to see the film again with friends or family.
For a film industry that was trying to get back on its feet before the pandemic - and which is now mostly shut down due to strikes by actors and screenwriters - the Barbie and Oppenheimer sensations showed what's possible when everything comes together correctly.
"After the pandemic, there is no upper limit or lower limit," said Goldstein, "the films that don't work are really bad, and the films that work are really good."
Universal Pictures' Oppenheimer, meanwhile, is running more like a superhero movie than a three-hour film about researchers talking.
Nolan's drama, starring Cillian Murphy in the lead role of atomic bomb physicist J. Robert Oppenheimer, has grossed $174.1 million domestically to date. With an additional $72.4 million in international theaters, Oppenheimer has already grossed over $400 million (€363 million) worldwide.
Screenings at IMAX are usually sold out. Oppenheimer has grossed $80 million (€72.6 million) worldwide from IMAX. The company announced on Sunday that it would extend the film's runtime to August 13.
In the words of Ken: "So cool."