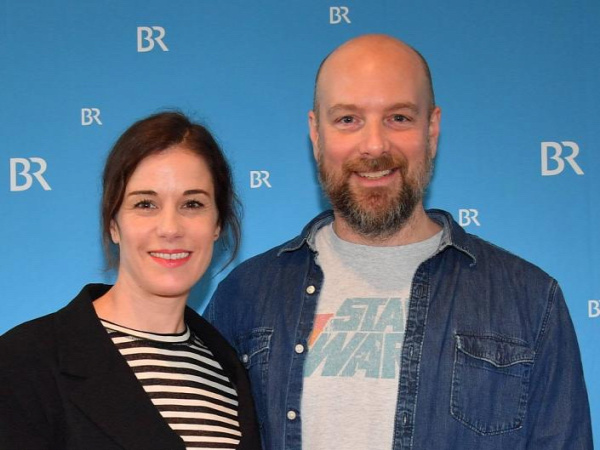 He is one of those actors and actresses who were still relatively unknown at the time - Katharina Marie Schubert (46), Julia Koschitz (48), Lisa Wagner (43), Kathrin von Steinburg (45), Felix Hellmann (44) etc. - who created the Speed dating ensemble film "Shoppen" (2006) by Ralf Westhoff (53) a surprise hit: the actor, cabaret artist and musician Stephan Zinner (48). For 15 years (2004-2019) he also inspired in his prime role as CSU politician Markus Söder (56) at the Singspiel at Munich's Nockherberg.
At the BR film brunch, which took place on Friday (January 27th) for the first time after the corona-related break in the Munich Literature House, he was one of the star guests alongside the Munich "Tatort" cult investigators Udo Wachtveitl (64) and Miroslav Nemec (68 ), her "Queen" episode stars Veronica Ferres (57) and Wolfgang Fierek (72), Franken "Tatort" commissioner Fabian Hinrichs (born 1974) and "Polizeiruf" new commissioner Johanna Wokalek (47).
Also on site were the "snow" dream team Brigitte Hobmeier (46) and Robert Stadlober (40), cult director Franz Xaver Bogner (74), the moody Franz X. Gernstl (71) and his traveling team as well as the particularly versatile actress Marlene Morreis (46, again with a completely different look).
Between the "police call 110" commissioners
When asked about starting with four productions at once, Zinner responded full of praise for the other colleagues involved: "It feels good because the productions are so good. Sometimes you do things that you But the four of them are simply cool: the series with Franz [Xaver Bogner], the Eberhofer thrillers and working with such fabulous colleagues as Verena Altenberg and now Johanna Wokalek on 'Polizeiruf' is just great, which makes me happy very pretty."
Stephan Zinner celebrated his debut as police officer Dennis Eden in Munich in 2021 at "Polizeiruf 110". In the spring, "Polizeiruf 110: Paranoia" is the last Sunday thriller with him and Verena Altenberger (35) on the program. When saying goodbye, Zinner said at the BR film brunch of the news agency spot on news: "It was sad. It was nice to shoot with her. But she just wanted to do something different and you have to respect that."
There wasn't much time to mourn anyway, because Zinner's role will also be with the new chief inspector Cris Blohm, played by Johanna Wokalek (47). And the excerpts from the crime thriller "Little Boxes", which were shown in advance at the traditional annual kick-off event of Bayerischer Rundfunk, suggest the best entertainment in a gender-affine and politically correct university milieu - whether humor is a key element in the new Munich "police call" -Constellation is, Zinner: "That will only become clear. With us, the approach is not 'humor' in the form it is with other teams. But that's how it turned out with this film," he said about the Crime by director Dror Zahivi (). Incidentally, Zinner has already seen the finished film at a screening. His comment: "It always sounds a bit strange when you say that about a film you took part in, but: I really liked it [...] It's great tennis, you can really look forward to it. "
Stephan Zinner in the Eberhof crime thriller
And the Eberhofer crime thriller success story should continue brilliantly this year, as the highlight excerpts, probably not unintentionally placed at the end of the trailer, show. Since the first film adaptation "Dampfnudelblues" (2013), Stephan Zinner as butcher Simmerl has also been an integral part of the congenial provincial crime troupe around director Ed Herzog (57) and his two main actors Sebastian Bezzel (51) and Simon Schwarz (52). "Rehragout-Rendezvous" starts in cinemas on August 10th.
Finally a separate series "Heaven, Lord, Sacrament"
For Zinner himself, the absolute highlight of his professional year should probably be the start of the TV series "Himmel, Herrgott, Sakrament". When exactly the six-part format penned by cult filmmaker Fanz Xaver Bogner ("Family Meier", "München 7") will be broadcast, the broadcaster still left open. However, the first pictures showed a lot of promise here as well.
That's what the series is about: After happy years as a country pastor, Hans Reiser (Zinner) takes over a problem parish in Munich: There is a gaping emptiness in his new church, leaving the church is the order of the day. But Reiser wants to fill his community with life again and relies on unconventional methods. Pastor Reiser quickly becomes acquainted with the single, separated young mother Lisa Kirchberger (Anne Schäfer), who actually has little to do with the church...
Zinner enthused: "Here, too, I'm lucky to have a colleague in Anne Schäfer, who is an absolute bombshell,