The magical creatures and wonders are back in a long, intense film that surprises with lots of disputes and thorns. In the third installation of "Fantastic Monster", we finally get a real insight into the complex relationship between childhood friends Albus Dumbledore and Gellert Grindelwald.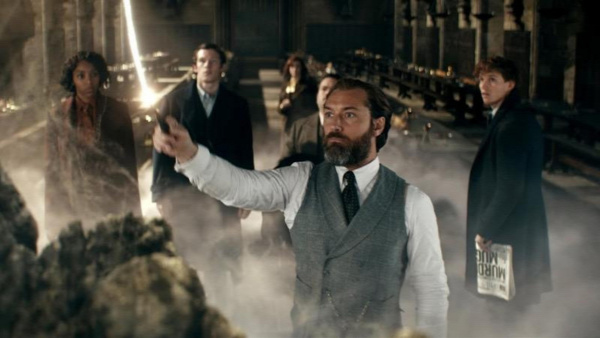 Almost four years and a whole pandemic have passed since we saw the smoke of our magic zoologist Newt Scamander (Eddie Redmayne), and all the magical creatures he keeps in his always equally expandable suitcase. The story we now have to follow takes over where a vicious Grindelwald (now played by Mads Mikkelsen) once again manipulates himself forward to destroy everything in his path and in his zeal to achieve world domination. At his side he has his puppet Credence (Ezra Miller), a tormented soul who at the end of his predecessor was also revealed to be a forgotten Dumbledore.

There are those who refuse to play after Grindelwald's pipe, and above all of them is the young Albus Dumbledore (Jude Law). The pill-dropping, well-dressed Dumbledore - who we may call Albus, now that it's teeming with Dumbledores - we were already newly introduced to in its predecessor "Grindelwald's Crime", and in part three it so rightly so that the title suggests focus on the Dumbledore family and all their secrets. Secrets that they may have to take and reveal now in order to get alive from this story.

It is a motley crowd that will try to stop Grindelwald from carrying out its evil plans for mass destruction, extermination and general dictatorship. In addition to Newt, we again find his brother Theseus (Callum Turner) the muggle Jacob (Dan Fogler), as well as Professor Lally (Jessica Williams) in a larger role as omniscient companion. Notably absent, however, is Tina (Katherine Waterston) who has now been reduced to a few cameos. Maybe she simply did not fit in with the gentleman's many characters and side tracks that we now follow.

The most pre-emptive casting choice to replace Johnny Depp turns out to be a crystal clear improvement. Our Nordic villain expert Mads Mikkelsen makes his interpretation of the cunning Grindelwald with bravura, and he shines specifically in the scenes that he and Albus have on hand. For some reason, Albus Dumbledore's sexuality became a hot potato when the author J.K. Rowling, outside the stories, told that she always had Albus in mind as a homosexual. In "Dumbledore's secrets" it is quickly made clear that this story is about more than the struggle between good and evil, it is about an old love relationship. The background history of both of them swims from time to time through flashbacks to the surface, where it is explained that their blood pact connects them forever, whether they want to or not.

The now trilogy "Fantastic Monster" has had a somewhat unfortunate journey, and has had a hard time finding a way out of the shadows where it has ended up in - the "Harry Potter" universe, which probably does not need any further presentation. The spin-off series' first film, simply titled "Fantastic monsters and where to find them", was an exciting insight into the American wizarding world as well as the muggle world, set in the backdrop of a beautiful 1920s. The sequel "Grindelwalds crime" never reached the same heights but chose to go a gloomier, slightly darker path; something that did not really appeal to either the critics or the audience.

It should be emphasized that "Fantastic Monsters: Dumbledore's Secrets" brings home a lot that was disappointing in "Grindelwald's Crime". Apart from the fact that the predecessor was messy and somewhat rejected, it largely lacked what I think the series should actually be about - magical creatures and monsters. It can therefore be happily announced that in "Dumbledore's Secrets" the story revolves around a smaller, deer-like animal called the quilin - one of the most innocent and honest creatures there is. The ugly, bamboo-like animal should be able to see through lies, so it is not entirely unexpected that many magicians want to draw on the poor little creature.

Dazzlingly beautiful panoramic views of landscapes and intensely crackling magician duels, yes, we will definitely enjoy that in "Dumbledore's secrets". What strikes me, however, is the lack of a fair dose of humor. In its eagerness to create a dark, frightening atmosphere, this subtle, simple humor falls away that we all remember from our upbringing with Harry Potter. The character Jacob Kowalski will once again be our "comic relief", but he is poorly supported by his companions and thus does not just become outside due to being a muggle-born - he also becomes the only reasonably humorous character. That he, as a smuggler, would also be able to 'hang on' all kinds of magical events and missions unhindered - he even gets a wand! - I do not really buy it either.
"Fantastic Monster" has always been a welcome adult variant of the "Harry Potter" we are used to. It's almost as if the film's heavy sociopolitical themes we follow are directly aimed at the grown-up children and young adults who once devoured everything with Harry Potter that they came across. The problem may be that the now adult Harry Potter lovers want a break from their ordinary, boring life just to dive into a magical fantasy world - not watch another movie about how depressing real life can be.

Film magic is not something you just conjure up, every single cone knows that. "Dumbledore's Secrets" is a long film, but where the pieces of the puzzle still find their way during the film's many intense minutes. Somewhere here in its third installation, "Fantastic Monster" has nevertheless found its own identity with its own pace and storyline. Despite the little brother complex, it still chooses to go in its own direction and with its many characters. Despite a somewhat complicated plot, everything falls into place in the third act of the film - which ends with a bang.
Related Stories: