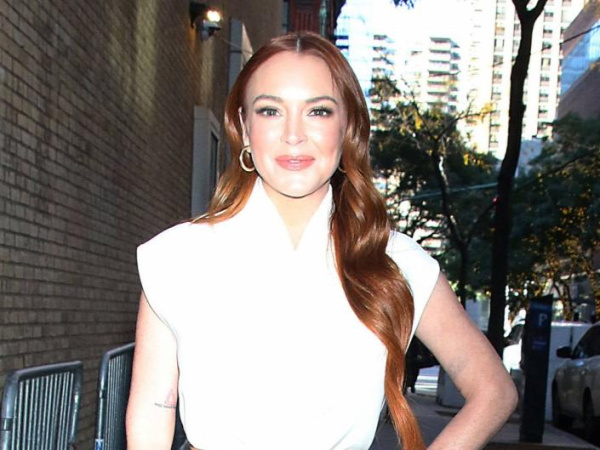 It was only announced yesterday that US actress Lindsay Lohan (36) is expecting her first child. The father is her husband Bader Shammas (b. 1987), whom Lohan is said to have met in her adopted home of Dubai, according to press reports. With the announcement of her pregnancy, the 36-year-old former scandal noodle seems to have finally turned her life around - after she had massive problems with alcohol, drugs, the law and her failing acting career for a long time. A look back at Lohan's turbulent life so far.
From child model to Hollywood star
Lohan began working as a professional model for Ford Models at the age of three, as reported by the British "Daily Mail". When she was twelve, she appeared in the popular Disney classic film 'A Twin Comes Alone' (1998), in which she played a dual role.
The body swapping comedy 'Freaky Friday' (2003) was another early acting success for then 17-year-old Lohan. The Disney movie, co-starring Academy Award winner Jamie Lee Curtis (64), played on a budget of 26 million US dollars worldwide, it brought in an incredible 160 million dollars, and was also a gigantic financial success.
Lohan finally became a Hollywood star in the cult comedy "Girls Club – be careful with biting!" (2004), but just a few years later the young actress made headlines that were mostly negative.
Problems with the law and stays in rehab
By the mid-2000s, it felt like Lohan was constantly being mobbed and stalked by paparazzi. Numerous unfavorable shots of her party excesses circulated in the media, and Lohan was also noticed on film shoots for her unreliability and lateness. Well-known film producer James G. Robinson (87) wrote in an internal email to Lohan at the time: "We are all aware that your continuous, night-long partying is the real reason for your alleged 'exhaustion'".
She also had increasing problems with the law. She was arrested several times for drunk driving, and the drug cocaine was seized from her during a traffic stop in 2007. During that time, Lohan was arrested a total of 20 times, spent more than 250 days in rehab and two weeks in prison.
In 2013, Lohan admitted to talk legend Oprah Winfrey (69) that he had taken the drug cocaine "ten to 15 times". However, the actress has not had any contact with the law since 2011.
During this time, Lohan was hardly noticed as an actress. What is best remembered here is a self-ironic appearance in Robert Rodriguez' (54) trash masterpiece "Machete" (2010) and her attempt at a comeback in the dark LA erotic thriller "The Canyons" (2013) by old master Paul Schrader (76) .
Move to Dubai, come back to acting and get married
Around 2016, Lohan relocated to Dubai, according to the Daily Mail. About her new adopted country, the native New Yorker explained: "There are no paparazzi there, no cameras - that's very important to me".
According to media reports, Lohan met her current husband Bader, who is said to work in the financial sector, in the Gulf state. The couple married in July 2022 and are now expecting a baby.
Lohan's acting career also seemed to be picking up speed again after a difficult few years without any engagements. Lohan signed a two-movie deal with the Netflix streaming service in March last year. The romantic Christmas comedy Falling for Christmas was released on Netflix in November 2022, followed later this year by the romantic fantasy comedy Irish Wish.