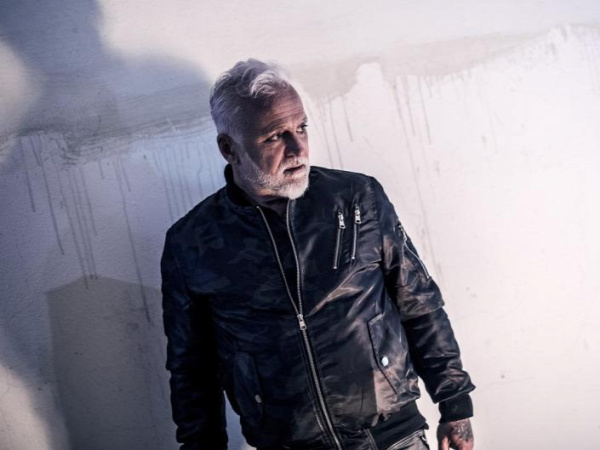 In the summer of 2022, singer Nino de Angelo (59) announced the end of his career, and in November he announced his resignation via Instagram. What follows: A new album entitled "From eternity to eternity", which will be released on May 12, and his first tour of Germany in the fall. In the new songs, the 59-year-old also processes some of the low points in his life, such as his alcohol and drug addiction.
The "Jenseits von Eden" interpreter still shows up regularly with alcoholic beverages on social media, which worries some fans. "I can stop drinking alcohol, but I can also start drinking again without ending up under the bridge," de Angelo clarifies. The singer is also struggling with the incurable lung disease COPD. He is currently doing well, according to the musician. In an interview with spot on news, Nino de Angelo explains how the illness will affect his upcoming concerts, why he doesn't want to give up his career after all and why he describes three of his four marriages as "unnecessary".
Her new album is titled "From Eternity to Eternity". Why did you choose this name for it?
Nino de Angelo: The new album is called "From Eternity to Eternity" because I'm convinced that the soul lives on forever, it's immortal. I also believe in reincarnation in whatever form.
They relived some low points for the album. What do you regret most today?
De Angelo: Actually, I have no regrets, because you learn from mistakes. Even if it's not always easy to bring back everything you've experienced. Especially the bad moments, that's not so nice. But I'm sure you learn from it.
In the song "My Kryptonite" you make it clear that superheroes also have weak points. What or who have you struggled with the most in your life?
De Angelo: With my desires, with my weaknesses. If you don't have enough mental strength to keep your hands off certain things, even though you know for sure that they harm you - whether it's alcohol, drugs or the wrong people. Being too open to everything usually brings a lot of difficulties. I'll probably struggle with that for the rest of my life.
You also recently spoke about your cocaine addiction. "I just can't get rid of you", you also sing in "My Kryptonite". How did you manage to beat your addiction? Or what do you do to avoid a relapse?
De Angelo: It's a learning process. When you're so inclined and the addiction gene is that strong, it's not easy. You have to take small steps. The more you want everything at once, the greater the risk of relapse. You have to stay on the right path.
You also have a difficult past with alcohol - although you do drink from time to time. Many fans are concerned on Instagram. Can you understand that? What do you say to the partly negative comments?
De Angelo: I've struggled with alcohol in the past. I drink every once in a while, even when the fans are worried and I get bad reviews for it. Although I don't think the negative comments are coming from my fans, but from random people who want to brag and throw in their two cents. You have to be patient with people who are addicted. I can stop drinking alcohol, but I can also start drinking again without ending up under the bridge. I've got it under control. I always have phases when I want to drink something. Especially when I'm writing songs or have to listen deep into myself. If I did it sober, I don't know if this depth would come out in the end. I'm careful and try not to let it get to me.
You announced in an interview in 2022 that this album will be your last. Is your farewell imminent?
De Angelo: In 2022 I announced my last album because I really thought it would be. But I've changed my mind. Because what am I supposed to do when I'm not making music anymore? I am only 59 years old. As long as I can be on stage, my chronic obstructive pulmonary disease (COPD) still allows me to sing and pull off my shows, I should keep working. If it becomes difficult for me at some point, then I should retire. Because I want everything but pity. I also think it's a shame that so many people are speculating about my life expectancy. At some point I said that I don't expect a long life expectancy. By that I mean 90 years. I don't know if I'll be 80. If I can live another ten years, I will be very grateful.
You also announced that you are playing your last tour.
De Angelo: Yes, I have. But I will not retire from the music business. I don't want to see those farewell numbers on TV from me. I would like to continue as long as I can, as long as my health allows. That's why I will continue to be on stage. I'm doing a resignation of resignation.
Their last album "Gesegnet und Ver cursed" reached gold status in 2021. How important are such figures or awards to you?
De Angelo: Of course it's important. Gold status is proof that you have been very successful. It took me a long time to reach this status. That's why I'm very proud of it.
In 2023 you will go on a major tour of Germany alone for the first time. How much are you looking forward to it?
De Angelo: I'm really looking forward to it because I've never managed to successfully complete a headlining tour before. We did one sometime in the 90's, but unfortunately we had to call it quits after only two shows. The record wasn't that successful back then either. This time I'm assuming a complete success. It's a highlight of my career. I belong on the stage. With my voice I have to go on tour and sing my songs live.
You suffer from chronic obstructive pulmonary disease (COPD). How are you doing with it at the moment?
De Angelo: I'm fine at the moment. It hasn't really evolved in six years. I know of cases where it has rapidly deteriorated. I was diagnosed at stage one, I'm still about there now. So I can't have done everything so wrong in terms of health or I just have good genes. I could be healthier, but I also want to have fun.
Do you therefore have to pay attention to something at your concerts or take certain precautions?
De Angelo: I will prepare well for my concerts. The important thing when you have COPD is that you don't just rattle off one song after the other. I don't jump around on stage either. But if I have a two minute breather after each song, I'm fine with it. You can also arrange everything in such a way that these breaks are not even noticeable. For example, you can play long intros. I don't think I will have any problems from my COPD.
"I always reckon with death," you said. How is this affecting your way of life?
De Angelo: We are born to die. We don't know when death will come. It can happen any second. That's why I try to enjoy every moment of my life. Of course I'm scared and I don't want to die either. But if you are afraid of death, then you cannot live or be happy. This fear ruins everything.
Will you also play "Out of Eden"? Can you still hear the song at all?
De Angelo: I will definitely sing "Jenseits von Eden". I mean, I can't leave the stage without the song. I love singing the track and the fans are happy. I usually don't have to do much. I only sing the first note, then the audience joins in. There was a time in the 80's when "Out of Eden" got on my nerves. But I was too young then and didn't appreciate this song yet. Today I can.
What should not be missing from your tour?
De Angelo: What I can't miss on tour? Definitely my partner Simone. She has to be there because I feel comfortable around her and she gives me security. She always looks out for me too. Simone is one of the few people I listen to.
Can you imagine getting married again?
De Angelo: Of course you can imagine that, but I've been married four times. I have a feeling there's a curse on it. From the first marriage two wonderful children were born. Unfortunately, this marriage broke up, probably because of me. But the other three times were unnecessary. Any marriage that ends in divorce is unnecessary. You can't say that when children are born. I have absolutely no regrets about my marriage to the mother of my children. But you can also be happy without a marriage certificate. Simone and I will also be together until the end.
What are your wishes and plans for the future?
De Angelo: I want to have plenty of time to do whatever I have in mind. I would like to see my children, Simone and my parents for a long time. I want time for all the people I love.