Hard to Kill", "Approved for Killing", "Today You Die", "Half Dead - Half Past Dead", "Driven to Kill - Damned for Revenge": The list of martial film titles in Steven Seagal's (70) CV seems endless long. With a few exceptions, such as "Lonely Decision" from 1996, the motto applies: if you know one, you know them all. Seagal cemented a reputation as a stoic one-man army first in A and then increasingly in B movies - as massive and unyielding as a wrecking ball.
So far, the star, who turns 70 on April 10, has shown little interest in escaping that reputation. His last film from 2019 is called "Beyond the Law", in other words: Seagal's screen revenge is still beyond the law more than 30 years after his debut film "Above the Law". Much more exciting - because more varied - than his cinematic work is a look at his life away from the camera. The more you get involved, the more it becomes clear: Seagal is a walking contradiction.
Seagal: The peace-loving Buddhist, the environmentalist, the reggae musician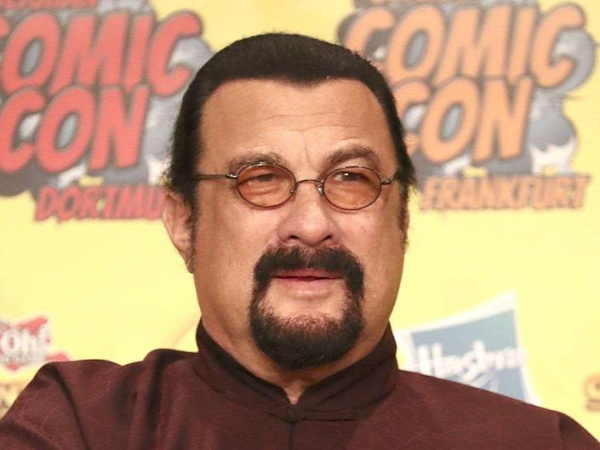 Seagal has been a follower of Tibetan Buddhism for many decades. But not only that. In 1997 he was in all seriousness appointed by Lama Penor Rinpoche as a Trülku, ie the reincarnation of a former master. The appropriate headline was chosen for a report from that time: "The Buddha from another planet: action star Steven Seagal has now been officially anointed as action llama."
As a Buddhist, he has dedicated himself to pacifism, although he has achieved the 7th Dan in the martial art Aikidō. Seagal is a vegetarian, advocates for animal welfare, conservation and the human rights of Native Americans. In 1999 he received an award from the organization PETA for his commitment to protecting elephants.
When Seagal isn't kicking ass on screen (recently more direct to DVD), he enjoys making music. His first album "Songs from the Crystal Cave" was released in 2004. Stylistically, he was drawn to softer country, blues and reggae sounds. His musical message, which coincides with his Buddhist: the pursuit of harmony.
Seagal: The gun lobbyist, the Putin admirer - and lots of accusations
"I'm Russian, my grandparents come from Vladivostok and St. Petersburg," Seagal assured in 2014. He did this to the state TV station Zvezda at the time - and on the Black Sea peninsula of Crimea, which had just been annexed by Russia. Only shortly before that, in an interview, he sang a hymn of praise for Vladimir Putin (69), described the ruler as a "friend" who he "would like to consider a brother". Around the same time, Seagal lobbied Russian arms dealers to help facilitate previously banned Russian arms exports to the United States. The prayer wheel-like credo of the Buddhist gun nut and honorary deputy sheriff sounds familiar: "Guns don't kill people. People kill people."
Seagal's approval of Russia's annexation of Crimea was not forgotten at the top of the Kremlin. And so, in 2016, Putin himself presented him with Russian citizenship. With this, Seagal joined the pro-government Just Russia party, was the guest of honor at Putin's fourth inauguration as president in 2018 and ran as a member of the State Duma in 2021.
As clear as his edge as a Hollywood hero has always been, he meandered in a recent interview about the Russian war of aggression in Ukraine, as expected. Of course he prayed that "both countries would come to a positive, peaceful solution".
However, to observe dangerous behavior by Steven Seagal, one does not have to look in the direction of Russia. Almost during his career, Seagal was heavily accused by mostly female co-stars in his US films. Allegations of sexual harassment have been documented from the early 1990s through to 2018. This is where the most serious allegation was made in the wake of the #MeToo movement: Regina Simons, an extra in the film "On Burning Ice" (1994), stated that in the Being raped by the main actor at the age of 18. This and the many other allegations have never ended up in court.
Related Stories: