Pixar's new family film "Red" lets a cute panda teach children about puberty and at the same time calm anxious parents. Fun and charming when embarrassments take turns, but the change of tone towards the end prevents the film from becoming panda-stick.
What if Pixar made a movie of a 13-year-old diary?

I actually think that's exactly what happened when director Domee Shi (who won an Oscar with the short film "Bao") is told about growing up as an Asian girl in Toronto. The cultural clashes between a strict, overprotective family and all the exciting things that the outside world has to offer are mixed with puberty pain and a great dose of humor.
Also read: will turning red be showing in israel? here is the complete info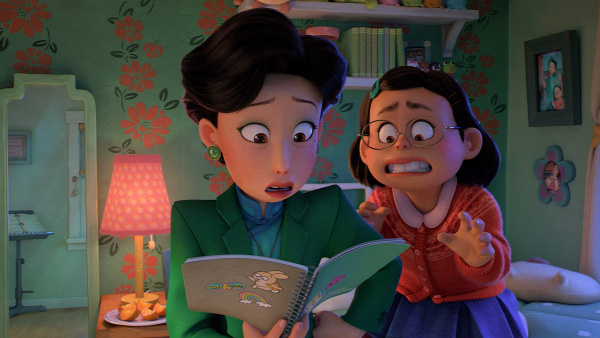 Mix in a little fantasy and the cuteness meter hits the ceiling - because when Mei Lee turns 13, she magically transforms into a big, red, fluffy panda! The transformation comes in time and untimely so she may become sad, angry or upset. A curse or maybe a superpower? Together with the tight group of girls, Mei Lee finds a way to capitalize on the sweet factor of her involuntary alter ego to raise money for the gig with the hot boy band.

"Red" is a very charming story about growing up and taking the scary but exciting steps from childhood into adulthood. The time when the body changes, a look from a good-looking classmate makes one kneel weak, and one has no damn idea what's going on - playfully designed so that even the smallest children can be enchanted while we adult viewers laugh and are ashamed in recognition of all the embarrassment.
With their latest three films "The Soul", "Luca" and now "Red", Pixar has left the world of fish and toys. It is a nice trio of more mature, human stories, of course with a touch of supernatural magic, but also more personal projects for the filmmakers. It's fun to see new abilities take the lead and that the studio is investing in more original stories.

That the film takes place in 2002, the same year when the director himself was 13, is hardly a coincidence. We who remember that time can smile at details such as tamagotchi and portable CD players - you almost wish it was even more driven with the era. But "Red" is a timeless story that everyone who has once been a teenager can recognize themselves in and laugh at while hiding behind the pillow of shame. For families with children, it also leaves open for conversations about menstruation and puberty in a de-dramatized way.

And as in Disney's musical "Encanto", questions are raised here about the family, where unconditional love and great pressure sometimes go hand in hand. Do everything to fit in or dare to break free? How do you handle being disappointed in your own mother's eyes? I can imagine that Mirabel and Mei Lee could have been good pen pals in a parallel Disney universe, they would have a lot to talk about.

I see "Red" with a big smile on my face. It offers wonderful middle school humor with one foot in Asian culture and the other in a fantasy world, with playful and often anime-inspired animation.

That being said, the film is not spotless. It loses a bit of its charm and humor towards the end, to derail in some kind of bombastic Marvel finale we could have been without. That Pixar emotional storm is also missing - you know how their best films can grab your heart and turn the tear ducts? Although I suspect that "Red" will appeal to the female audience more, both mothers and daughters, who can relate to the characters on another level.

But the red panda is kind of the cutest thing seen in an animated film in a long time. Beware, parents - it is probably already mass-produced for toy stores.

And by the way, I love that Billie Eilish and his brother Finneas have teamed up with Swedish music genius Ludwig Göransson to create quirky, troll-friendly pop hits for the film's fictional boy band 4-Town. This year's most unpredictable music collaboration?

"Red" will be released on Disney + on March 11.