We are hardly spoiled with good horror, especially those who are not remakes or sequels. Ti West delivers a hard-boiled slasher that manages to combine blood and sex with thought-provoking, human themes.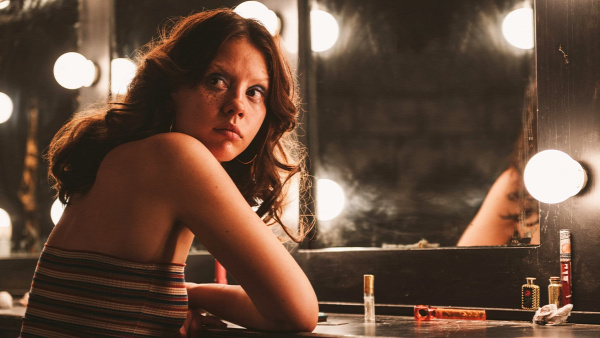 "X" is like a really good wine. When you first taste it, it is good and slips easily down your throat. But it is when you are hungry and the fantastic aftertaste comes that you really enjoy. Because even if "X" on the surface is a 1970s-inspired slasher (which also takes place in the mentioned decade) about some crazy lantis who terrorize a porn film production, it has more layers than you can count. When the subtitles roll and you really start to digest the film, you realize that it actually has something to say.

One can only applaud the director / screenwriter / producer Ti West, who has previously given us low-budget gems like "The House of the Devil", "The Innkeepers" and "The Sacrament". Clearly a fan of the genre as he previously manages to combine effective retro horror with black humor and human themes. But that, as here, succeeding in including old age, sexuality, prejudice and identity-seeking in a horror film that on paper sounds like a B-film is very impressive.
Related Stories:
It is a film that builds up slowly and subtly but becomes all the more frightening once things start to happen. There are more nasty situations - and a lot of blood - rather than cheap jump-to-effects. We also care about the characters who, despite their flaws and shortcomings, are unusually sympathetic and human to this type of film.

Much is due to West's script, which refuses the kind of hip, politically correct dialogue we often hear in modern slasher films. This is not least noticeable in an almost brilliant scene where our main characters discuss their roles in the porn film they record but also in society. How their morals - and in some cases double standards - are reflected in their view of s@x.

Someone who impresses all the more is the main character Mia Goth ("Suspiria", "Emma"), superb in a cool double role. Not only is her ambitious porn actress Maxine Minx an unusual heroine who does drugs, fucks and aims hard at the stars. British Goth has also adopted a credible American Southern dialect for the role. But she also plays the older, creepy lady Pearl, where in addition to fantastic makeup, she also gets an older woman's movements and behavior so that it is almost impossible to see that the wrinkled, thin-haired and slender Pearl is actually played by a 28-year-old. It is almost more impressive than Tilda Swinton's contribution as an older man in "Suspiria" (in which Goth also starred).

Goth is also backed by a flawless ensemble. It's extra fun to see "Pitch Perfect" star Brittany Snow steal every scene she's in as a promiscuous porn star with a twinkle in her eye. Martin Henderson ("The Ring") does a wonderful Matthew McConaughey imitation better than McConuaghey could have done himself. And between this one, "Scream" and "Studio 666", Jenna Ortega proves that we have a new horror movie star to count on.

"X" with its rural and 1970s environment is similar to many classic horror films - but at the same time manages to have something to say between the once-motivated sex scenes and all the happy splatter violence. It's a smart, fun, bloody and nicely packaged gift for fans of the genre who usually have to go through tired remakes and sequels. West and Goth have already filmed a prequel, "Pearl", and expectations are high!