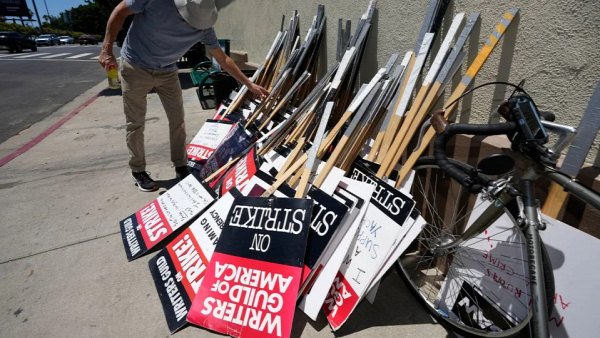 Los Angeles (dpa) - Actors and film studios in Hollywood have reached a "preliminary agreement," suspending the strike that has been ongoing for nearly four months on Thursday. Representatives of the actors and film studios reached the agreement "in a unanimous vote," announced the actors' union SAG-AFTRA. The agreement still needs to be ratified by the union members before it can take effect.
The approximately 160,000 actors in the United States had been on strike since July 14. SAG-AFTRA revealed that the new contract has a value of over one billion dollars (around 935 million euros). It includes an above-average minimum wage and improvements in pension and health insurance.
Additionally, clear regulations have been established for the first time to protect artists from the threat of Artificial Intelligence (AI) through compensation payments. Members are also expected to receive a bonus in relation to streaming services.
Screenwriters had also been on strike since early May but reached an agreement with the studios in early October. It was the first time in over 60 years that writers and actors had simultaneously gone on strike. According to Todd Holmes, a professor of entertainment media management at Cal State Northridge University, the two strikes caused an estimated economic damage of around seven billion dollars, as reported in the "Los Angeles Times."
If union members approve the agreement, the entire contract is set to be published on Friday. The return of actors to their workplaces marks the end of one of the longest and largest work stoppages in Hollywood's history.
Numerous blockbusters delayed The strike paralyzed production throughout the industry for almost four months and raised existential questions about the future of the entertainment industry. Many TV and film productions were interrupted or canceled.
Although many reality shows and some independent projects were able to continue production, major studios were forced to delay numerous blockbusters, including "Spider-Man: Beyond the Spider-Verse," "Ghostbusters: Afterlife," "Dune: Part Two," and "Gladiator 2," as well as series hits like "Euphoria" and "Stranger Things."
The unions particularly demanded better compensation when films or series are streamed on platforms like Netflix, Apple, and Amazon. Another central issue was the use of AI. Writers were concerned that studios could replace them with the technology. Actors feared that their likeness could be digitized and simulated without compensation or consent.
Writers accepted the new contract In early October, Hollywood writers concluded their nearly five-month strike. With an overwhelming majority of 99 percent, the screenwriters accepted the new contract with major film studios. It also includes salary increases and regulations for the use of AI, as well as higher subsidies for retirement and health care.
https://github.com/apps/o-o-t-e-e-2023-o-ie-4-i-1080-i-y
https://github.com/apps/2023-4-1080
https://community.convertkit.com/question/https-github-com-apps-2023-4-1080-654cf01e70ce1e509851142f
https://community.convertkit.com/question/https-github-com-apps-o-o-t-e-e-2023-o-ie-4-i-1080-i-y-654ced6cf404b00fc44f2bab